10 Reasons to wear Knee High Socks
Chic ♥

Sexy

♥

Stylish

♥

Comfortable

♥

Sporty

♥

Warm
Knee-high socks have been around for many generations. They continue to gain in popularity, and for good reason! Once you've discovered how easy it is to add fun fashion with knee socks, you'll want to wear them with EVERYTHING. No matter who you are or what you do, you'll find a reason to fall in love with knee socks. The style and comfort that a simple pair of knee socks add to your wardrobe can't be beat.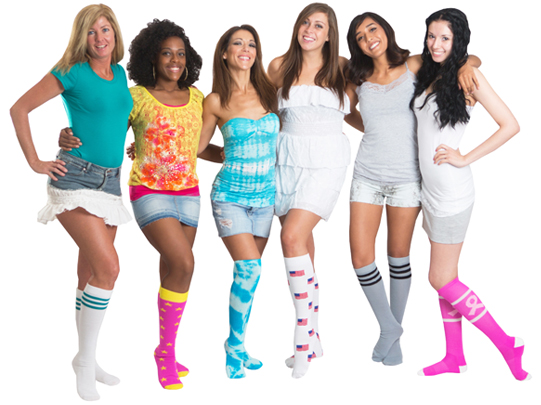 1.They're CHIC
From the runway to the street, knee-high socks have always been popular with the fashion crowd all over the world, and they show no signs of stopping. Maybe it's because there are so many ways to style a look which incorporates knee socks. They can be dressed up or dressed down for formal or casual occasions depending on your choice of the socks' fabric, length, color and pattern.

Because knee socks have a young, sporty feeling by their nature, you can have fun contrasting their youthful look with an otherwise grown-up or conservative outfit. Because of their popularity during several historic eras, knee socks naturally lend themselves to creating a retro look. Simply add a flapper dress and flats for a 1920's look, or a flowing bohemian dress and tall suede boots for a '70s feeling.
2. They're SEXY
No matter how conservative or covered-up your outfit is, knee socks add undeniable sex appeal to any look, as they accentuate the curves of your calves and show a flash of skin above your knees. They have an innocent, feminine charm that makes them a fashion classic.
3. They're COMFORTABLE
What could be easier than slipping on a pair of knee-high socks to add a bit of warmth in the chilly months? You don't have to sacrifice style to enjoy the incredible comfort of knee socks. Our socks are designed with extra stretch to ensure they stay in place all day without being adjusted.
They are made of super soft material which feels wonderfully comforting against your skin. They can look elegant and classy, but they're also ideal for lounging in ultimate comfort as you sip a cup of tea by the fire or relax with friends at a movie marathon.
4. They're SPORTY
Many athletes wear knee-high socks in various sports, as part of a team uniform, or as a natural choice for performance and comfort. Not only do knee socks serve as a protective shield for the calves, ankles and feet; they come in a huge range of colors and styles to match your team's jerseys/uniforms. Show your team spirit and play your best with fun and fashionable knee-socks.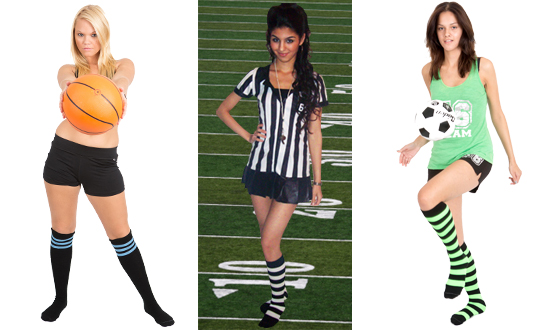 Some sports where knee socks are commonly worn:
5. They're WARM
Knee socks can be worn to stay warm at a sporting event, when camping, skiing, shoveling snow, or for any other reason you might think your legs would be cold. When they weather turns unfriendly, you'll always have knee socks to keep you warm and stylish. They're the perfect accessory to add warmth and protection to your legs while keeping your look interesting and fashionable.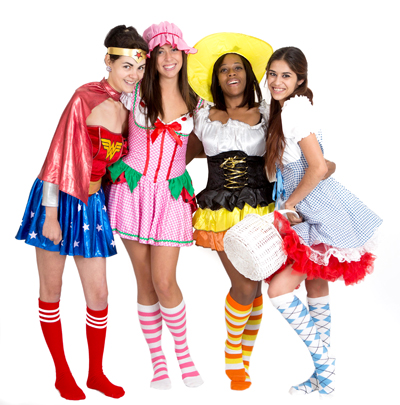 6. They're Great for the Holidays
Knee socks have a place in your everyday wardrobe throughout the year, but here are plenty of holidays that could require an awesome pair of themed socks, such as: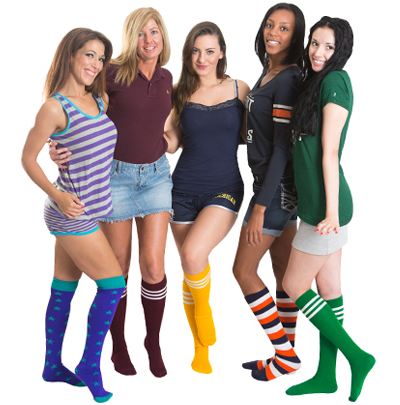 7.They're VERSATILE
Many people wear knee high socks to accessorize an outfit, and just by changing up your knee socks, you can take an outfit from day to night. You can use knee socks to add style to an outfit with a mini-skirt, mini-shorts, capris, dress, jeans and even boots. They are also so cute and comfortable when you are just lounging at home in your PJ's. Click here to view 185+ outfit ideas with knee highs.
8. They're Perfect for Entertainers
Knee socks are widely used in the world of entertainment. There are a variety of movies where this hot accessory is featured or sported. If you're a singer or dancer, try a pair of sheer black knee highs to give your performance some extra kick. They have a sexy retro vibe which brings to mind sultry jazz singers and burlesque performers of the 1930's.
9. They're Fashionable for BACK to SCHOOL
Back to School - See our School Fashion Guide! Knee socks are a classic accessory for any student, but they don't have to be paired with a school uniform or plaid skirt. They can be worn with almost any outfit and look great in the halls of your high school or college campus.
10. JUST BECAUSE
And of course, the #1 reason to pull on a pair of knee high socks any day of the week: "just because"! Once you realize how easy it is to add style and comfort to any outfit, you'll want to wear knee socks all the time. Who needs a reason to wear such a great accessory?